http://www.abouthk.com/index.php?option=com_content&view=article&id=935:hong-kong-highpower-teaches-an-important-investing-lesson&catid=1:news&Itemid=46
It's not enough to find a stock in which to take a position, but it is also important to manage the position. The literature tells us to keep our losses small and let our winners run. Sound advice. However, when faced with a loss, our head often counsels this way: "If you (as if there's a two-party conversation!) hold onto this stock, it will come back!" Conversely, when faced with a gain our head (again thinking that it is apart from us!), has equally pathetic counsel: "Better to sell it now...you know what they say, 'nobody goes broke pocketing a gain.' Besides you big dummy, look at those losers in your portfolio--be quick before this turns into one of those. "
It's worth remembering that your mind really doesn't have a mind of its own. And you can go broke by failing to take a gain. How? Simply by hanging onto your losers while tripping up your winners after they've made it through the first turn on their track to unknown price heights.
Let's take a look at one of my winning horses,
Hong Kong Highpower Technology (

HPJ)
. I had a 97% gain on this stock. And the stock lingered a wee bit too long (to my eye) for a follow through in volume. Plus, it was a volatility play, and selling into the volatility break out is part of the strategy. But rather than selling all, I could have done it more deliberately. Here's the chart (sigh!).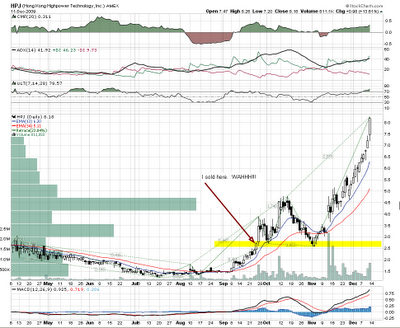 So selling was fine (more on that later). Re-buying after it comes back in is part of the strategy too. I did not do that. I passed on not one but two low volume pullbacks.